Shona Robison, Cabinet Secretary for Health and Sport
We're using digital in health but we can do more.
The draft of the new eHealth strategy is shaped around the citizen – since other industries have found great success by focusing on customer experience.
Need to see digital as a core part of business, not just an add-on.
Need to use it to improve care for patients, but also improve efficiency for staff.
The new eHealth strategy should be released next year.
Citizen Perspective
At this point, two videos were shown from the citizen perspective. Stuart who worked with a Fife Charity for the Blind talked about how he uses Amazon Echo to find out the weather to decide how to get to work – whether to walk or bus it. He uses his iPhone Voice Over Accessibility feature to phone, text and use social media. He also sets reminders for dental and hospital appointments.
Then they showed Florence ("Flo") blood pressure measuring telehealth solution – patients take their blood pressure and text it back to the service, meaning that Margaret doesn't need to leave her home.
Andy Kinnear, Director of Digital Transformation, NHS South, Central and West
Andy started with his fantastic analogy for being a digital health leader: in Honduras, during a hurricane the bridge remained standing but the river moved places – similar to the moving goalposts that digital health leaders have to deal with.
Andy talked about his four "engines" driving digital transformation in England:
NHS England

Vision & Strategy
Money – 4.2 billion recently

NHS Digital

Setting standards
Delivering some national systems

"Locals"

People in the NHS delivering services
Design, delivery, timetable

Suppliers

Products
Innovation
Repeatability
National Digital Strategy
Five Year Forward View – Simon Stevens Grand plan; Personalised Health and Care 2020; Making IT Work, the Wachter Report – Andy thinks this is a superb piece of work. Of the most import, Wachter talks about how the journey to widespread adoption can take 5-10 years.
The Placemat
NHS England have sought to develop a narrative that is more focused on the outcomes that they are trying to achieve, and have called this the placemat.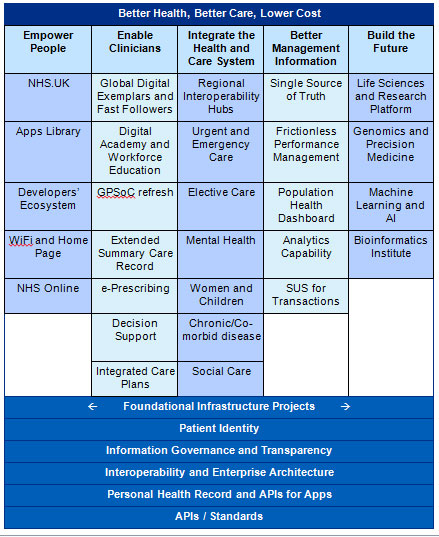 Domain A Programme
The Citizen Facing Programme. The current state is disorganised, difficult to access – Domain A are attempting to bring it all together under the NHS online banner. Looking to empower the person.
What's different between now vs the nineties and the failed NHS IT programme for change? It is less autocratic, people are more involved at a grassroots level.
Andy then talked about the CCIO (Chief Clinical Information Officer) and CIO (Chief Information Officer) network – a network I have benefited from personally.
Talked about SNUH (Seoul national university hospital) who employed 400 developers to build their own EPR and are now selling it back to the Middle East and USA.
He talked about INTEROPen, the community looking to make interoperability a reality – the same organisation who organised the Interoperability conference I attended earlier in the year.